Tuition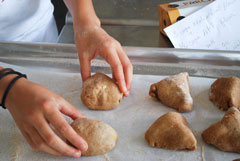 Tuition for one three-week session of Terra Summer 2011 is $900; for the two-week session, $600. That covers food every day (snacks and lunch); field trips; classroom, farming, and kitchen supplies; and transportation, if needed. Children at Terra also receive a number of cool gifts such as T-shirts, backpacks, and other fun things.

Full-paying children who apply and are accepted into Terra Summer BEFORE March 30 will receive an early-bird discount of $75. If you are applying to two sessions, the early-bird session applies to both sessions! APPLY NOW!!!!

A number of full and partial scholarships are also available. Do not let cost deter you from applying.